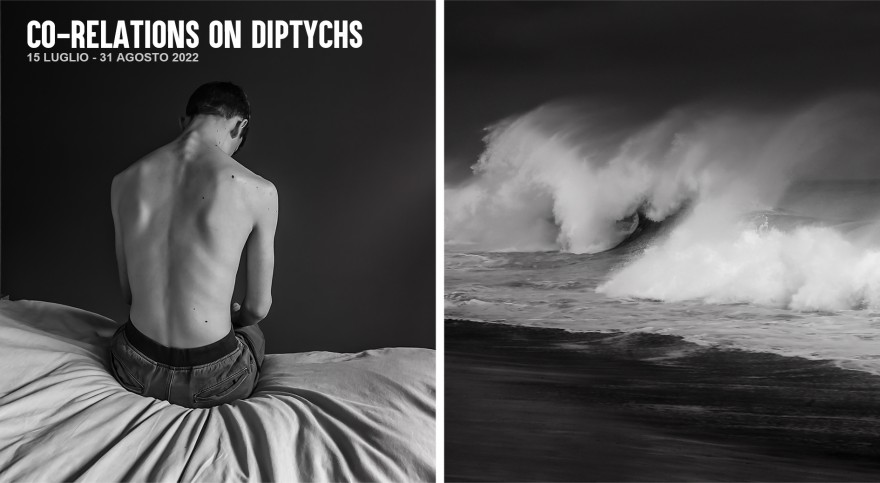 Written by admin
Posted 440 giorni ago
CO-RELATIONS ON DIPTYCHS
Mostra Collettiva Internazionale di video, fotografia e grafica digitale
Evento curato da LoosenArt.com >>
Visitabile dal 15 Luglio al 4 Agosto / dal 23 al 31 Agosto 2022 ore 9 – 19 / sab. e dom. chiuso
Millepiani – Via Nicolò Odero 13 – Roma
Ingresso libero
Opening | Free Aperitivo – Venerdì 15 Luglio ore 17.00
Dalla presentazione di Loosenart
Già a partire dal Medioevo, il dittico, trittico o, in molti altri casi, il polittico era un formato utilizzato dagli artisti – e dai loro committenti – per concedere respiro a un soggetto altrimenti relegato a una singola tavola. Il dittico, infatti, apriva la pittura (e secoli dopo le arti visive in generale, dalla fotografia al collage) a possibilità interessanti sia dal punto di vista tecnico, sia da quello contenutistico. Esso dava (e dà) cioè modo di raccontare una serie di episodi, di rappresentare una storia che si snoda nello spazio e nel tempo. Secondo una visione più moderna, tale formato concede all'artista l'opportunità di allargare l'orizzonte dei suoi lavori. Si passa quindi da un monologo a un dialogo, a una dialettica che guarda e comprende più mondi e universi diversi tra loro.
Ed è proprio tale dinamica una delle caratteristiche della mostra collettiva "Co-relation on Diptychs", allestita presso lo Spazio Millepiani di Roma. I lavori digitali e le fotografie qui esposte guardano all'attualità con estrema lucidità e consapevolezza. Su questo sfondo, il dittico è un formato, è un mezzo espressivo, ma anche un rafforzativo del soggetto inquadrato. Ciò che viene comunicato dall'artista attraverso le sue immagini, viene infatti rimarcato, ripetuto, ma a volte anche contraddetto. Le prospettive e i punti di vista sono molteplici e in continua evoluzione.
CO-RELATIONS ON DIPTYCHS
Photo, Video and Visual international group exhibition
Website LoosenArt.com >>
15th July – 4th August / 23th – 31 August 2022 / from Monday to Friday – 9:00 am – 7:00 pm
Millepiani, via Nicolò Odero 13 – Rome, Italy
Already from the Middle Ages, the diptych, triptych, or, in many other cases, the polyptych was a format used in art to give breath to a subject otherwise relegated to a single board. In fact, diptych opened up interesting possibilities for painting (and, centuries later, to other techniques as well), both from the point of view of the technique and of the content. It gave artists a way to paint a series of episodes, to represent a story that unfolds in space and time. According to a more modern vision, this format is also an opportunity to broaden the artistic horizon by going from a monologue to a dialogue, to a dialectic relationship between two poles including various and diverging universes.
This dynamic is also one of the features exhibited at "Co-Relation on Diptychs", group show arranged at the Spazio Millepiani in Rome. The digital pieces as well as the photographs look at what is happening in the world with extreme clarity and awareness. Here, the diptych is considered as a format, an expressive mean, but also as a subject reinforcement. Thanks to this, the message the artists are trying to communicate through their pictures is remarked, repeated or contradicted; at the same time, the perspectives are multiple and ever-chaning.
ARTISTS
15 – 25 July
Aaron Yeandle, Agata Mendziuk, Anna Mikuskova, Chris Ireland, Florence Babin-Beaudry, Jeffrey Kane, John Kinney, Liva Pastore, Massimo Di Tosto, Miranda Schmitz, Nicoletta Cerasomma, Roberto Ruoli, Sepp Van Dun, Stephanie Robbins Thulin
26 July – 4 August
Anastasia Arlantseva, Athina Alexi-Bourtzi, Darnia Hobson, Gabrielle Barrera, Ganna Biletska, Giuseppe Santagata, Grace Tank, Hannah Latham, Jennifer Eddins, Laurent Girard, Liene Lintere, Lynne Breitfeller, Melania Messina, Micah McCoy, Nadide Goksun, Olga Sondyk, Renata Crespo, Suzette Dushi, Tina Levy, Victoria Guinet, Xi Zhou, Zeljko Jerneic
23 – 31 August
Anastasiia Marinich, Anemona Knut, Ariana Eland, Bilge Tekin, Frederico Guedes, Bergina Leka, Elexa Sauls, Elias Sarquis, Eric Zeigler, Giulia Carla Rossi, Grzegorz Piotrowski, Ilaria Sponda, Katalina Simon, Li Zhang, Madeleine Soich, Márcia Pessoa, Marco Bordignon, Michael V Kelly-DeWitt, Roshni Baker, Tamara Arranz, Wioletta Golebiewska, Yuxiao Mu