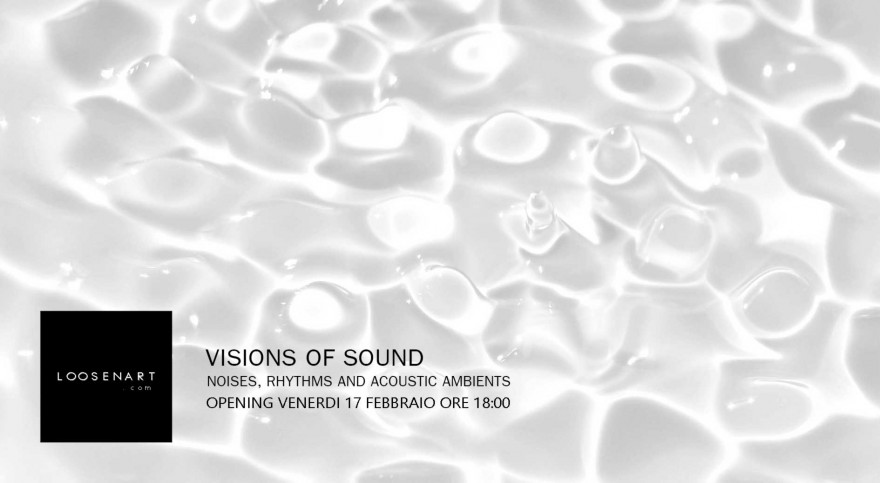 Written by admin
Posted 293 giorni ago
Visions of Sound: Noises, Rhythms and Acoustic Ambients
Mostra Collettiva Internazionale di video, fotografia e grafica digitale
Evento curato da LoosenArt.com >>
Visitabile dal 17 Febbraio 2022 al 23 Marzo ore 9 – 19 / sab. e dom. chiuso
Millepiani – Via Nicolò Odero 13 – Roma
Ingresso libero
Opening | Free Aperitivo – venerdì 17 Febbraio ore 18.00

Dalla presentazione di Loosenart
La realtà, così come la viviamo (e fagocitiamo) nel quotidiano, è una dimensione totalizzante, dove la visualità – i colori, i movimenti, la tridimensionalità – convive con i suoni e le esperienze che si susseguono, giorno dopo giorno.
Ma cosa succede quando una di queste componenti viene a mancare? La mostra collettiva "Visions of sound" cerca di darci una risposta, focalizzandosi proprio sul rapporto tra visione e suono, mette in luce il lavoro di artisti e fotografi a cavallo tra questi due ambiti.
In questa mostra il suono viene interpretato e inglobato nel campo della visualità in maniere differenti, a seconda della sensibilità e degli interessi degli artisti. Lungo il percorso espositivo, è facile accorgersi dell'esistenza di una scala interpretativa che va dal 'tutto letterale' al 'tutto simbolico'. Il cammino presenta artisti che portano il suono con sé, all'interno della loro produzione, mettendo lo spettatore di fronte a dei lavori dove le immagini mostrano musica e movimento, accordi e disaccordi, valori organici e artificiali.
Visions of Sound: Noises, Rhythms and Acoustic Ambients
Photo, Video and Visual international group exhibition
Website LoosenArt.com >>
17th February – 23th March from Monday to Friday – 9:00 am – 7:00 pm
Millepiani, via Nicolò Odero 13 – Rome, Italy
Reality, as we live it (and absorb it) in our everyday life, is an all-embracing dimension, where visuality – colours, movements, tri-dimensionality – coexists with sounds and experiences that follow one another, day after day.
But what happens when one of these components is going missing?
The group exhibition "Visions of sound" tries to give us an answer.
In this exhibition the "sound" is being interpreted and incorporated within the visuality in such different ways. Along the exhibition space, a wide, interpretative range of various choices is immediately noticeable, going from the 'all-literal' to the 'all-symbolic'. The exhibition itinerary presents artists keeping the sounds alive, bringing them into their production and letting the visitor enjoy works where the images are accompanied by music and movements, harmony and disharmony, organic as well as artificial features.
ARTISTS
17 – 28 February
Anil Duran, Anna Poroshina, Ayşe Meltem Yıldız, Dasha Pears, Eva Popovic, Evan Hume, Inbal Kristin, Julieta Tetelbaum, Marco Bordignon, Marek Lapis, Michael Cheung, Patricia Abreu, Raffaella Romano, Sam Montalbetti, Violeta Morano, Virginia Diaz
1 – 10 March
Angela Crosti, Aqsa Nasar, Asavir Nadeem and Logan Lamers, Ben Sarachi, Caleb Daly, Daniel J McKleinfeld, Fabio Di Marcantonio, Halfdan Kajhoj, Izabella Retkowska, Jaylen Early, Jorgie Ingram, Lara Gilks, Leanne Trivett S, Léna Piani, Martha Alicia Moreschi, Nadide Goksun, Ravneet Marwaha, Roshni Baker, Sophia Xu
13 – 23 March
Aidan Marcinkowski, Brian Alexander, Cagla Demirbas, Emre Goksu, Faezeh Valadan, Holger Mohaupt, Holly Mingo, Ian Gibbins, Jennifer K. Potter, Jose Sanchez, Kirke Rodwell, Kylo-Patrick Hart, Linda Boelen, Mariia Kulchytska, Michael Askew, Michael Askew, Peter Spacey & TEC, Pierre Ajavon, Polina Popova, SingASongOnTheGround, Sonia Lucia Pirchi, Tim Reed, Vigmantas Balevičius, Yuliia Zaluzhna